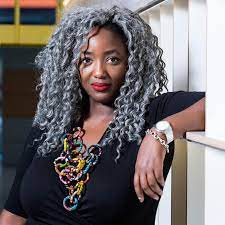 Anne-Marie Imafidon: She's In Ctrl
An inspirational exploration of why women are under-represented in tech, why it matters, and what we can do about it.
Our eyes are now open to the dangerous fact that our technology is built by a series of big decisions made by a small number of people, mainly men. It means our technology is derived from the gender, nationality and beliefs of a section of society whose lived experience may not chime with your own. The tech world might feel beyond reach, particularly if you're a woman.
In She's In CTRL, Dr Anne-Marie Imafidon, a dynamic advocate for women in STEM, insists that technology is not an unchangeable and unquestionable force. It is not the preserve of the elite. It is in our homes and in our hands. Rather than feeling powerless to make changes to the way tech works and fails, she argues that it's time to get into the room where the decisions are made. Or, better yet, create our own tech rooms.
Covering everything from 3D printing, AI, blockchain and bitcoin, to virtual reality and wearable tech, this powerful book about women, tech and daring to dream takes inspiration from Dr Imafidon's own experience and from the stories of other pioneers and innovators who have, against the odds, transformed technology, including:
Jenny Griffiths, software engineer and founder of visual search engine Snap Vision.
Tobi Oredein, founder of Black Ballad, a UK based lifestyle platform that seeks to tell the human experience through eyes of black British women.
Deborah Okenla, founder and CEO of Your Startup, Your Story.
Abadesi Osunsade, CEO and founder of Hustle Crew, a community whose aim is to make tech more inclusive.
Dr Anne-Marie Imafidon is a keynote speaker, presenter and creator of the award-winning social enterprise, Stemettes, which inspires the next generation of females into science, technology, engineering and maths.
A recognized and respected thought-leader in the tech space, in 2017 she was awarded an MBE for services to young women and STEM sectors. In 2020 she was voted the most influential woman in tech in the UK by Computer Weekly.
Tickets £8, (£6) available from the Oundle Box Office, The Victoria Hall, Phoneline open 10.00am – 2.00pm Mon to Fri: 01832 279086
Online at https://oundlelitfest.org.uk/events/
Enquiries contact [email protected]