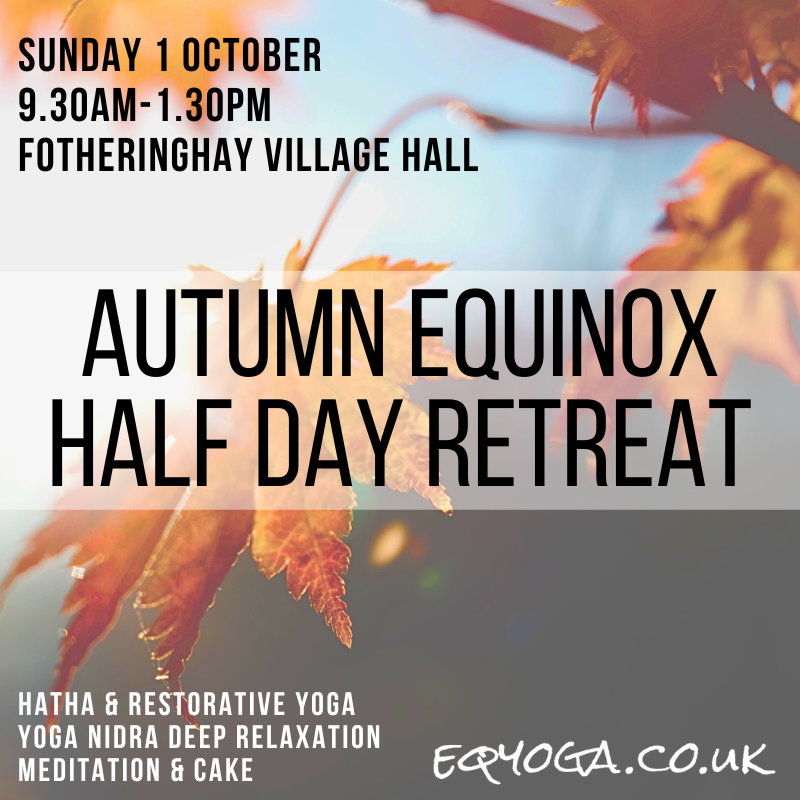 Autumn Equinox Half-Day Yoga Retreat
Autumn Equinox Half-Day Retreat with Equanimity Yoga
Sunday 1st October 2023
at Fotheringhay Village Hall, Northants
9.30am-1.30pm 
Join us for Hatha & Restorative Yoga, meditation, deep relaxation and cake in the picturesque village of Fotheringhay.

To celebrate the Autumn Equinox, this half-day Yoga retreat will start with an extended Hatha Yoga practice designed to bring movement the body and increase your sense of wellbeing.

There wil be time for tea & coffee, light refreshments and delicious cake freshly made by For the Love of Cake.

An hour of effortless Restorative Yoga Practice follows, which will help to bring you to a place of ease and stillness.

We shall take a Mindful Meditation before finishing a beautiful Yoga Nidra deep relaxation, leaving you feeling fully rested and refreshed.

Investment £67 per person, including light refreshments and a take-home gift.
Payable at time of booking. Spaces Limited.