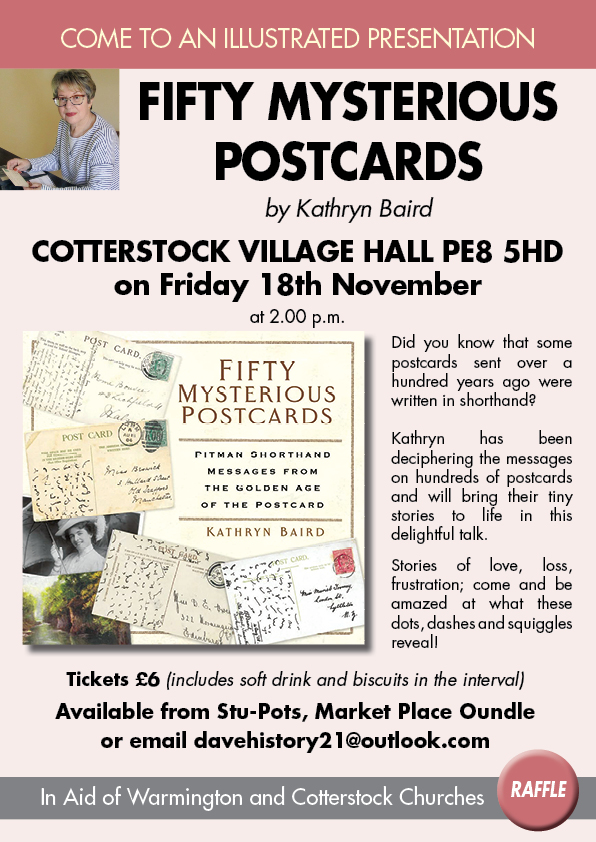 Fifty Mysterious Postcards
"Having a glorious time, fine every day.  We have faces like boiled lobsters and the skin is peeling off".
"I am looking forward so intensely to tomorrow night.  I must give vent to my feelings then and I am sure you will feel like me".
Two examples taken from a recently published book by local author Kathryn Baird called "Fifty Mysterious Postcards: Pitman Shorthand messages from the Golden Age of the Postcard". Kathryn has been collecting these postcards for nearly forty years and transcribing their tiny stories which she will bring to life in her talk.
In the early 20th century, between one and three million postcards were posted daily.  You will hear tales of penfriends, sweethearts, the First World War, holidays and much more all hidden in these mysterious postcards.  Come and be transported back to a world before emails and texts when writing a postcard was one of the best ways to keep in touch. You definitely don't need to be able to read shorthand to enjoy this delightful talk.
Tickets are just £6 (which includes a soft drink and biscuits in the interval) and available from Stu-Pots, 36 Market Place, Oundle.