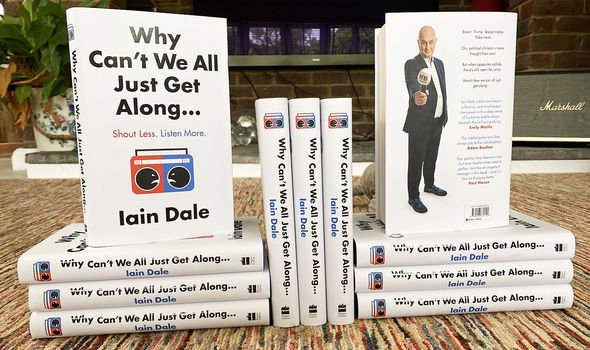 Iain Dale – Why Can't We All Just Get Along… Shout Less. Listen More.
Why Can't We All Just Get Along is part-memoir, part-polemic about the state of public discourse in Britain and the world today.
In an increasingly divided society, Iain examines why we've all become so disrespectful and intolerant. Using experiences from his career in politics and the media, he says it doesn't have to be this way, and suggests how we can all emerge from tribalism and division and become more respectful to each other and those who govern us. It is a book that is optimistic about the fundamental decencies embedded in human nature and uses deeply personal anecdotes to explain why we can look forward in a positive way to a better life both in personal and material terms.
'There are very few commentators and broadcasters with an instinctive feel for real politics – who feel the passions, and who understand the flaws and the strengths of the players from the inside, with proper empathy. Iain Dale does, which makes him endlessly listenable-to and peerless. For many political-addicts, he is their warm but watchful friend.' Andrew Marr
Iain Dale presents the Evening Show on LBC Radio He was named Radio Presenter of the Year for 2013 & 2016 at the Arqiva Awards, and was shortlisted for Speech programme of the year at the 2013 Sony Radio Awards. In 2014 he won a Sony Award for 'Best Interview of the Year'.
Iain has written or edited more than forty books including The NHS: Things That Need to be Said, The Big Book of Boris, 500 of the Most Acerbic, Witty & Erudite Things Ever Said About Politics, West Ham: When Football Was Football & Norwich City: When Football Was Football. His latest book, co-edited with Jacqui Smith is Honourable Ladies: Profiles of Women MPs 1918-2019.
Until June 2018 Iain was managing director of Britain's leading political publisher, Biteback Publishing. He formed the company in 2009 and published more than 600 books.
Iain co-hosts a weekly podcast with former Home Secretary Jacqui Smith called 'For the Many', the 'Iain Dale Book Club' podcast, the Iain Dale All Talk podcast and also a podcast of his weekly 'Cross Question' political panel show.
Iain is a visiting professor of politics and broadcasting at the University of East Anglia, which he graduated from in 1985 with a degree in German and Linguistics.