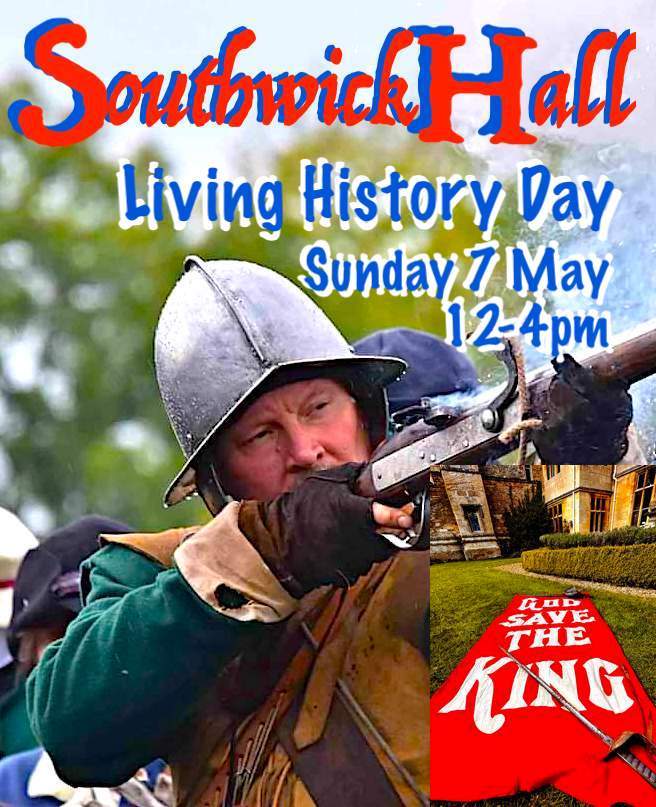 Living History Day at Southwick Hall
17th Century-themed Living History Day & Family Picnic
All aboard for this 17th-Century Celebration of our King
Bring your own picnic (and hardhats . . . )
A free community event on Charles III's Coronation Sunday, as Southwick welcomes a Sealed Knot militia and their families, for a heady throwback to the 1600s.
A registered educational charity, the Sealed Knot is the oldest re-enactment society in the UK and provides – along with the thunder, cracks and whistles – a glimpse of everyday life in bygone years.
Live displays throughout the afternoon will include:
Sword fighting • musket firing • cannon firing • pike drill
Handling of weapons and armour
Crafts of the time
Have a go at quill writing
Adding calories to the cannon fire: Hannah and her Riverside Café, which she ferries over from Yarwell on the Nene. Her range of cakes (those chocolate brownies . . . ) and ice creams will be on sale in our Tearoom.
Bring your own picnic & chattels – but please note
This event involves loud noise and is not suitable for dogs.
–––––––––––––––––––––––––
A FREE SOUTHWICK EVENT – all donations appreciated
‍
–––––––––––––––––––––––––
And a bit of history: did you know that Oliver Cromwell's mother (Elizabeth Stewart) came from Southwick Hall?
Married to a Lynne, Elizabeth lost both her husband and their baby girl in her early 20s (probably from a 'fever'). She went on to marry Robert Cromwell and their son Oliver was born in Huntingdon in 1599.
The Lynnes were almost certainly royalists, but their family connection would have spared them from persecution. When Elizabeth died (aged 89), during her son's Protectorate, she was buried in Westminster Abbey with full honours, but then disinterred after the restoration of the monarchy.