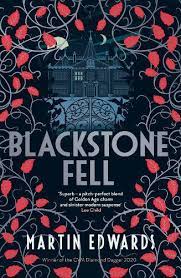 Martin Edwards: Blackstone Fell
Rachel Savernake investigates bizarre crimes and a baffling locked-room puzzle in this Gothic mystery from the winner of the Diamond Dagger. This is the third book in the Rachel Savernake Golden Age Mystery series.
Yorkshire, 1606. A man vanishes from a locked gatehouse in a remote village. 300 years later, it happens again.
Autumn 1930. Journalist Nell Fagan knows there's only one person who can get to the bottom of this mystery: Rachael Savernake. But someone wants Nell dead, and soon, while investigating a series of recent deaths at Blackstone Sanatorium, she's missing entirely.
Looking for answers, Rachel travels to lonely Blackstone Fell, with its eerie moor, deadly waters and sinister tower. With help from Jacob Flint – who's determined to expose a fraudulent medium at a séance – Rachel will risk her life to bring an end to the disappearances…
Martin Edwards has been the editor of 38 anthologies and has written many contemporary whodunits, including The Coffin Trail, which was shortlisted for the Theakston's Prize for best crime novel of the year. He has won the Edgar, Agatha, H.R.F. Keating, Macavity, Poirot and Dagger awards as well.
Martin is President of the Detection Club, a former Chair of the Crime Writers' Association and consultant to the British Library's bestselling crime classics series. In 2020 he was awarded the Diamond Dagger for his outstanding contribution to crime fiction.
Tickets £8 (£6), £1 off early bird tickets bought before 6th December, available from the Oundle Box Office, Queen Victoria Hall, Oundle
Phoneline open; 10.00am – 2.00pm Mon to Fri: 01832 279086
Online at https://oundlelitfest.org.uk/events/