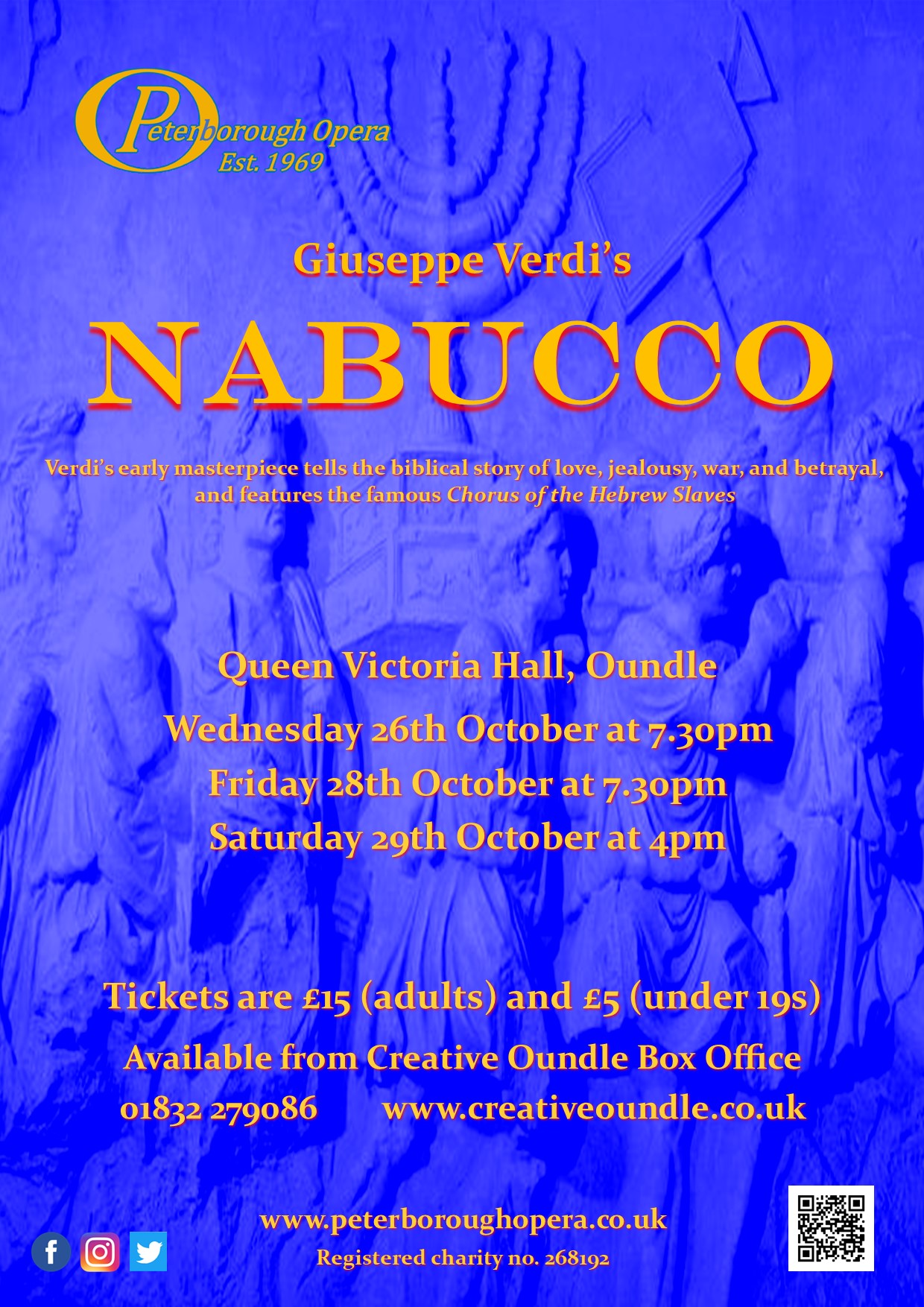 Nabucco
After their very successful production of The Magic Flute pre-Covid, Peterborough Opera are back with an epic story of love, jealousy, war and betrayal – Verdi's Nabucco.
Verdi's early masterpiece is a powerful biblical drama about the attempt by Nabucco (Nebuchadnezzar) to destroy the Hebrews. He is struck down by God for blasphemy until he realises the error of his ways, when his remarkable recovery enables him to reinstate the Jews in their temple. His two daughters, Abigaille and Fenena, are both in love with one of the Hebrews, but one becomes a Jew and sticks with her man, whilst the other rejoices in the fall of her father and continues his destruction, as vengeance on the man who has chosen her sister over herself.
The music is classic Verdi and was an instant success when it premiered in 1842. The opera has many wonderful choruses, including everybody's favourite, the Chorus of the Hebrew Slaves.
The production will be produced by Liz Williams, with the accompanying orchestra led by Musical Director, Kate Wishart. Peterborough Opera will be performing Nabucco at Oundle's Queen Victoria Hall this October: Wednesday 26th at 7.30pm, Friday 28th at 7.30pm and Saturday 29th at 4pm. Tickets are £15 (adults) and £5 (under 19s), available from the Creative Oundle Box Office, online at www.creativeoundle.co.uk or by ringing 01832 279086. Tickets will also be available on the door.
For more information about Peterborough Opera's future events, go to www.peterboroughopera.co.uk or find us on Facebook, Twitter and Instagram.