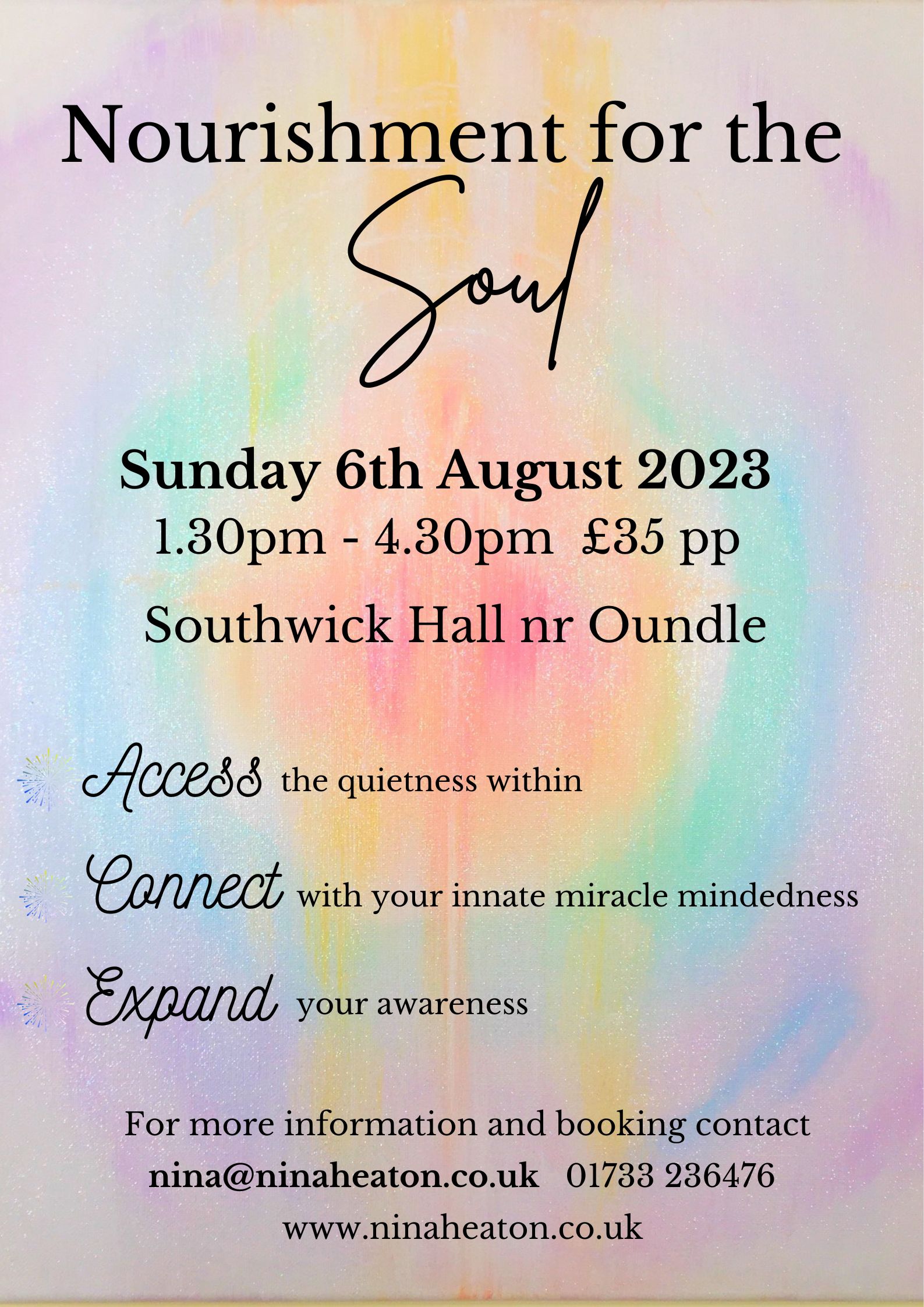 Nourishment for the Soul
Is it time you experienced some Nourishment for the Soul?
​You've come to the right place, I have created a special afternoon for a gathering of like minded people at the beautiful Southwick Hall.
​This 3 hour experience is designed to help you feel relaxed, centred, refreshed and uplifted as you deeply connect to yourself. From this nourished place, we'll playfully explore ways to shift perspectives and open up to new possibilities by transforming rigidity into flow, your spark activating the process.
Like an informal workshop style event, my intention is for you to explore, learn and expand your awareness in the beautiful surroundings.
​Tuning in to nature will further enhance this unique experience by tapping into the energy to recharge your personal energetic field and regain vitality.
You will be able to …
​Access the quietness within
Connect with your innate miracle mindedness
​Expand your awareness
This session is for you if…
You feel drawn to spend time in nature with liked minded people.

You have an awareness of some rigidity/perception of limitation within yourself and would like to playfully explore new ways to transform that.

If you're feeling in need of being relaxed, refreshed, uplifted and experience a deep connection to yourself.

Would like to spend time in beautiful surroundings and open up to possibilities and potentials.

Have an open curiosity to how you can experience Nourishment for the Soul.
Arrive at 1.15pm for 1.30pm start.

Welcome.

Techniques to help you connect to your body and become present including guided meditation (no meditation experience needed).

Creative visualisation.

Playful abstract drawing exercises and visualisation to create more flow and help to transform rigidity/perception of limitation expanding into potentials and possibilities (no art experience needed).

Tea & Cake.

Walk in the beautiful grounds along the stream in a pretty little wooded area and tune into nature to regain vitality, including guided visualisation.

Come together and close.
Southwick Hall has lovely open spaces and lends itself to these beautiful events and gatherings. It has quite a special feel to the place, the mature trees, stream and nourishing energy feels very inviting https://www.southwickhall.co.uk/
Southwick Hall is about 25 minutes by car from south Peterborough.
All in all a very nourishing afternoon for all levels of your being!
There are just 10 spaces available in total (4 spaces left at the moment) for this special gathering. Feel free to contact me with any questions you may have about this session 01733 236476 or email me  [email protected]
Please note, I've held many events, gatherings, workshops and courses over the years in this journey of working with clients. In this light and joyful event there is no need to share personal information about the topic you're transforming.
Payment: 

£35 per person is required in advance, your space will be confirmed when payment is made. Please wait for confirmation.

Sorry no refunds.

For adults only.

Please give your email address and mobile number when booking for ease of communication (I never pass on personal information to third parties).

The session includes walking on uneven ground, please only book this session if you are able to do that.

Payment means you agree to the Terms & Conditions.
I'm looking forward to holding this unique event in this very special place.
Love & light
Nina