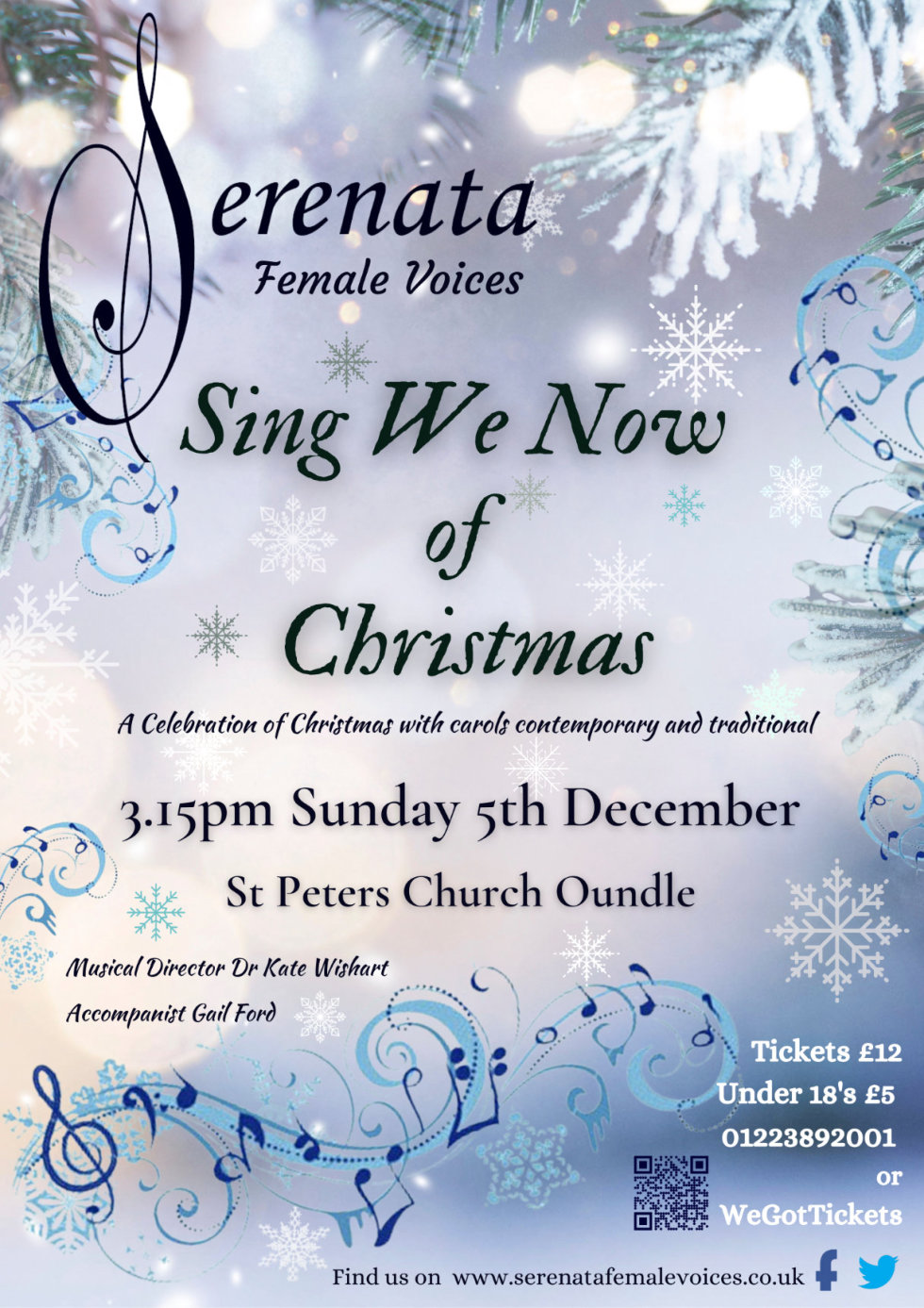 Sing We Now Of Christmas – Christmas Carols At St Peter's Church Oundle
Serenata, East Anglia's foremost female voices choir, are delighted to be bringing a celebration of Christmas carols from across the centuries to St Peter's Church, Oundle on the afternoon of Sunday 5th December at 3.15pm. Doors open at 2.14pm
Serenata have a wonderful programme of music for you – all sung in the close harmonies of upper voices that are a feature of the choir. Their 'Sing We Now of Christmas' concert will bring a mix of contemporary and traditional carols, and they will be singing some well-known tunes including 'The Sussex Carol' and 'In the Bleak Midwinter' along with Christmas songs from around the world. The choir have some exciting new works by Oliver Turney, Sarah Quartel and Paul Mealor as well as a fabulous arrangement for upper voices of Peter Wishart's carol 'Alleluya, A New Work is Come on Hand' by his daughter, their director and Oundle local, Dr Kate Wishart. Kate will be known to many local singers as she also conducts Peterborough Opera and Oundle G & S.
You will be invited to join in with the choir in singing some of the well-known traditional carols you love. Serenata do hope you can join them!
Tickets £12 adults, £5 under 18s are available from the box office number 01223892001 or from WeGotTickets.com/event/527651 or on the door. Find out more about Serenata at www.serenatafemalevoices.co.uk or follow them on Facebook @serenatafemalevoices or Twitter @serenata1
The choir will be following strict Covid precautions and will all have taken a lateral flow test prior to the performance. They ask that audience members please wear a mask if possible and observe social distancing and covid hygiene precautions.