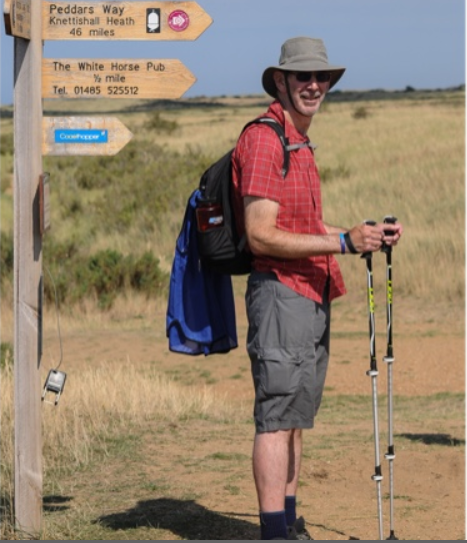 Tim's Peddars Way Walk for Cure Parkinson's
I was diagnosed with Parkinson's in 2016. I was shocked when, in 2017, I learned that the main reason there was not a cure for the disease was because of lack of investment. Parkinson's is generally perceived to be an old person's disease yet I was 58 when diagnosed and many much younger people have young onset Parkinson's (YOPD). In 2020 an estimated 145,000 people in the UK lived with Parkinson's.
Almost 5 years ago, in August 2018 I walked 64 miles of the Norfolk coast path in 4 days and in doing so raised over £75,000 for Cure Parkinson's. Parkinson's is a progressive disease and so I am not as fit as I was, neither do I have the energy to devote a number of hours each day to managing a major fundraising campaign. But all is by no means doom and gloom. Starting this weekend I am going to walk the 49 miles of Peddar's Way. I will do so much each week until I complete it. The first part will be from Great Bircham to Massingham, a distance of 8 miles. It would be fantastic if I could raise £5,000.
Cure Parkinson's are here for the cure. Cure Parkinson's is working with urgency to find new treatments to slow, stop and reverse Parkinson's. Their funding and innovation has redefined the field of Parkinson's research, enabling the world's leading researchers to prioritise the next generation of drugs for clinical trial. Together we will conquer Parkinson's.
Tim's Peddars Way Walk for Cure Parkinson's Just Giving page