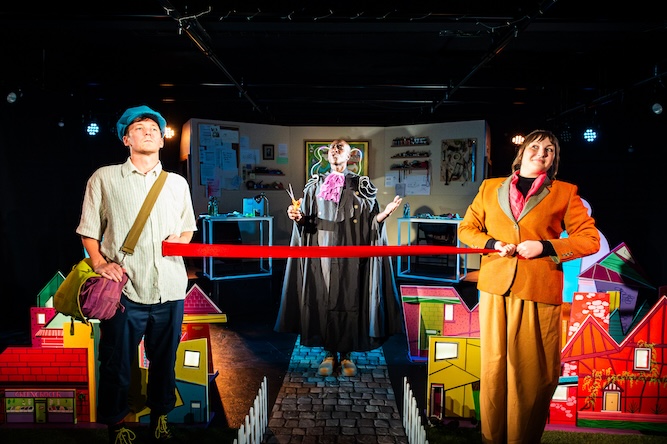 Model Village
Thursday 23 November, 7:45pm
Tickets from £13
★★★★★ "Compounding entertainment and food for thought, Model Village embodies its message about the small carrying power" The Indiependent
"A gem of a play" LeftLion
New Perspectives 50th anniversary year starts with a playful new comedy on an epic scale.
The train now departing from Platform 1 is for Model Village…
Welcome to the model village, an acre of idyllic 1930's England. Cricket is always played on the green, the miniature railway runs on time. But the waist-high houses that have brought joy and wonder to generations of kids are in decline.
Model-makers Bob and Holly are joined by Cutler, a radical urban artist, to help save the attraction and put the village back on the tourist map.
However, not all is quite as it seems as the miniature villagers rebel and an emergency council meeting brings model-makers and residents eye-to-eye at grassroots level. If both worlds are to survive, they must learn to collaborate across divides. But first, they must round up the wolves.
Vote for the model village YOU want in this playful and subversive new satire.
We are now arriving at our final destination. Please mind the gap between one reality and another…