Latest News From Oundle Town Council
Oundle in Top 10 for Tourists
Oundle revealed as UK's fourth hottest off-the-beaten-track tourist destination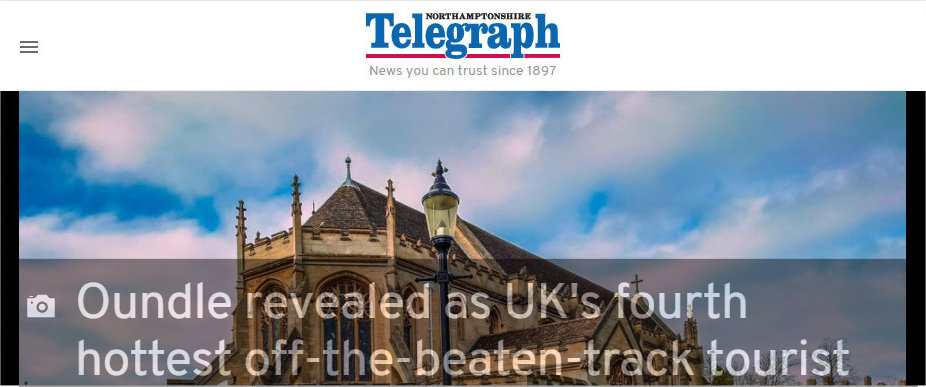 A new list of unrecognised UK tourist destinations features Oundle as one of the top-ten UK places to visit this year.
The East Northamptonshire town is fourth in a list of ten hidden holiday hotspots alongside Portmeirion in Wales and Tresco Abbey Gardens on the Isles of Scilly.
As lockdown eases, most people will be choosing a holiday on UK shores this year, but recent research shows only one in three will try to avoid tourist hotspots and look for alternatives.
With social distancing and the avoidance of crowds high on people's wish lists for holidays this year, renowned travel guide Lonely Planet and Sony Mobile came up with the list to provide some 2021 travel inspiration and captured images of each town on a smartphone.
Tom Hall, Vice President of Experience at Lonely Planet, said: "London has always dominated tourism in the UK, and for good reason, but the entire country is overflowing with historic sites and natural wonders. The pandemic caused us all to pause and re-evaluate how we travel, and I think now is the perfect time to update that bucket list with some of these under-the-radar places you might have overlooked in the past."
Kate Cronin | The Northants Telegraph | Published March 25, 2021
Link to article at NorthantsTelegraph.co.uk
Article in The Times
A Weekend in Oundle, Northamptonshire

Poor old Richard III. Lost for centuries. Rediscovered in a Leicester car park. And now, here I am. standing on the spot where the slaughtered king was born … and what do I find? Absolutely nothing. l'm not disappointed. though.
Fotheringhay Castle, where Richard emerged into the world, has crumbled away over the years — all that remains for the visitor to mull over is a single chunk of masonry and a high, once-fortified mound. Climb that hill, however, and you overlook the thatched sweetness of the local village, the meandering River Nene and the tranquil beauty of Northamptonshire. Which seems more than enough.
Arriving in nearby Oundle. I was struck by the charm of the town, crammed with honey-stone homes and fine old buildings, many of them belonging to Oundle School. which is very much part of the community. I strolled around, had lunch in a cafe called Dexters, and was overwhelmed by a sense of condensed loveliness, England at its best.
Then a ten-minute drive took me through the lovely Tansor village to Fotheringhay, which proved to be still more beautiful. At this point, standing on that mound overlooking a sun-filled landscape seemed a better deal than hacking round the innards of some well-preserved old castle.
The thing about this corner of Northamptonshire is that it's not overloaded with famous attractions, yet it easily repays subtle attention. Oundle is barely large enough to house 5,000 people and is made up of just a handful of streets. Those streets, however, are deeply atmospheric, and I discovered at least three or four tiny alleyways and courtyards that added depth. I stumbled on Hambleton Bakery, winner of last year's ITVI series, Britain's Best Bakery, hugging a lane off the Market Place. Two traditional butchers did fierce trade nearby; I browsed three antique shops, a gallery, a delicatessen, wandered past four attractive cafes (supported by Oundle pupils. I imagine), plus a handful of good-looking pubs.
Dropping into the Ship. I had a pint that – they told me – had been brewed a few hundred yards away, so I drank up and walked to the North Bridge (Oundle is trapped within a meander of the Nene and has two stone bridges) where I found Nene Valley Brewery and its co-owner, Dick Simpson, whose story was intriguing. Finding himself "retired" from his City job, he started brewing in his back garden, then last year opened this brewery, re-establishing an ancient Oundle tradition that had died out 50 years earlier. On Friday and Saturday you can buy a beer here; and if he has time he'll show you the brewing process amid the smell of hops and booze.
That night I bumped into history again at the Talbot Hotel, one of the oldest buildings in town, a place that's made a decent job of mixing heritage and refurbishment, an arrangement that became clear when I left the bar and walked up a set of stairs that were plundered from Fotheringhay Castle. Half-way up, there's a mark on the banister that was allegedly made by Mary Queen of Scots when she was imprisoned, and executed, at Fotheringhay. Hotel staff told me that the mark was supposedly made by her ring but when I pressed the point, they smiled…
Next day I explored the lakes and river backwaters of Barnwell Country Park on the edge of town, chatting to anglers and eating a Hambleton cake. But the wider countryside was waiting to be explored so I drove ten minutes to Lyveden New Bield, which proved to be another example of heritage dominated by its own landscape' – like Fotheringhay and Oundle.
Lyveden is a lavish Elizabethan lodge that was never completed, because of the death of its owner and the disgrace of a son involved in the Gunpowder Plot. Now it stands unroofed, like a 400-year-old skeleton. I spent hours walking, and at the end realised that a dead building in a beautiful landscape was also far more engrossing than most things, including a king in a car park.
Nicholas Roe | The Times | Published September 14, 2013
Link to article at TheTimes.co.uk
'I visited the town near Cambs where the new series of The Crown is being filmed'
It was easy to see why the town was used as the set for filming of The Crown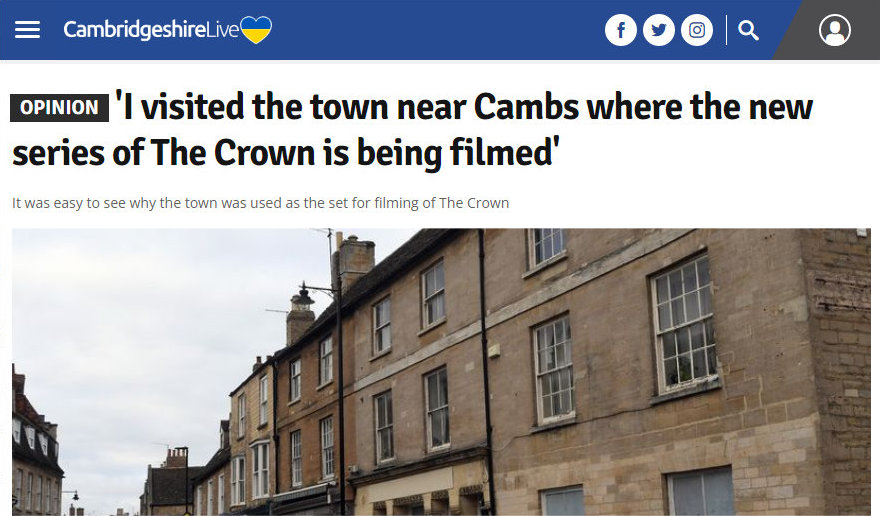 With the new series of the hit Netflix series The Crown officially released I went to visit Oundle near Cambridgeshire where part of the next season is being filmed. The sixth season may not be coming to our screens for a while yet but with the chance to visit the town where one of my favourite dramas is filmed I could hardly pass up the chance.
So far two locations near Cambridgeshire have been confirmed to have been the setting for The Crown. Burghley House in Stamford, just 20 minutes away from Peterborough is one location that has frequently been featured in series four and five, depicting a royal residence as well as being used for several exterior shots of Windsor Castle.
Although it was not confirmed what scenes would be included in Oundle, or if any of the show's actors were in town it was rumoured to focus on royal events in the 1990s. So with this in mind, I visited the town that was suitable enough to set the scene for one of the biggest Netflix dramas that portrays the life of the longest British monarch in history, Elizabeth II.
When I arrived in the market town of Oundle which is on the left bank of the River Nene in North Northamptonshire, I instantly understood why this would be fit for a Queen (as they say). The Georgian houses that line the quaint streets, Grade II listed cottages and old stable doors leading onto the road were the first parts of the beauty I found during my visit.
This appears to be the core reason why it has been used as the set of the period drama along with the history that smothers this old town on the Nene. From the moment I arrived, I could easily imagine horses and carriages trotting down the road, residents in their bodices and chimney sweepers going from cottages to manor homes.
There is a small museum in the former Courthouse located at the top of Mill Road, which provides history from prehistoric to the modern-day. A number of independent shops with little hidden treasures line the streets ready to be explored, so much so that I had to resist buying something I never knew I needed.
Oundle is also home to a number of charity shops, including the Oxfam shop, one of which is filled with books from top to toe and the other offering vintage clothes at bargain prices. It was tempting to dress for the occasion as if I were taking part in the royal set during the 90s.
Of course, no town would be complete without its choice of pubs offering traditional Sunday lunches and a preferred gin, which was said to be one of the Queen's favourite tipples. Two of the traditional pubs in Oundle include the Ship Inn and The Rose & Crown, very fitting to set the scene.
The town is also home to Oundle school which considers itself "one of Britain's leading co-educational boarding and day schools". The school's presence in the town is undoubtedly large with a number of their buildings found throughout, it can almost feel as though Oundle is hosting the school.
During my visit, I was provided with a true glimpse into another era as I walked through the narrow alleys and courtyards. It really is the place to visit if you want to be transported into another decade and of course the setting of The Crown.
Amy Jones | CambridgeshireLive | Published November, 2022
Link to article at Cambridge-News.co.uk