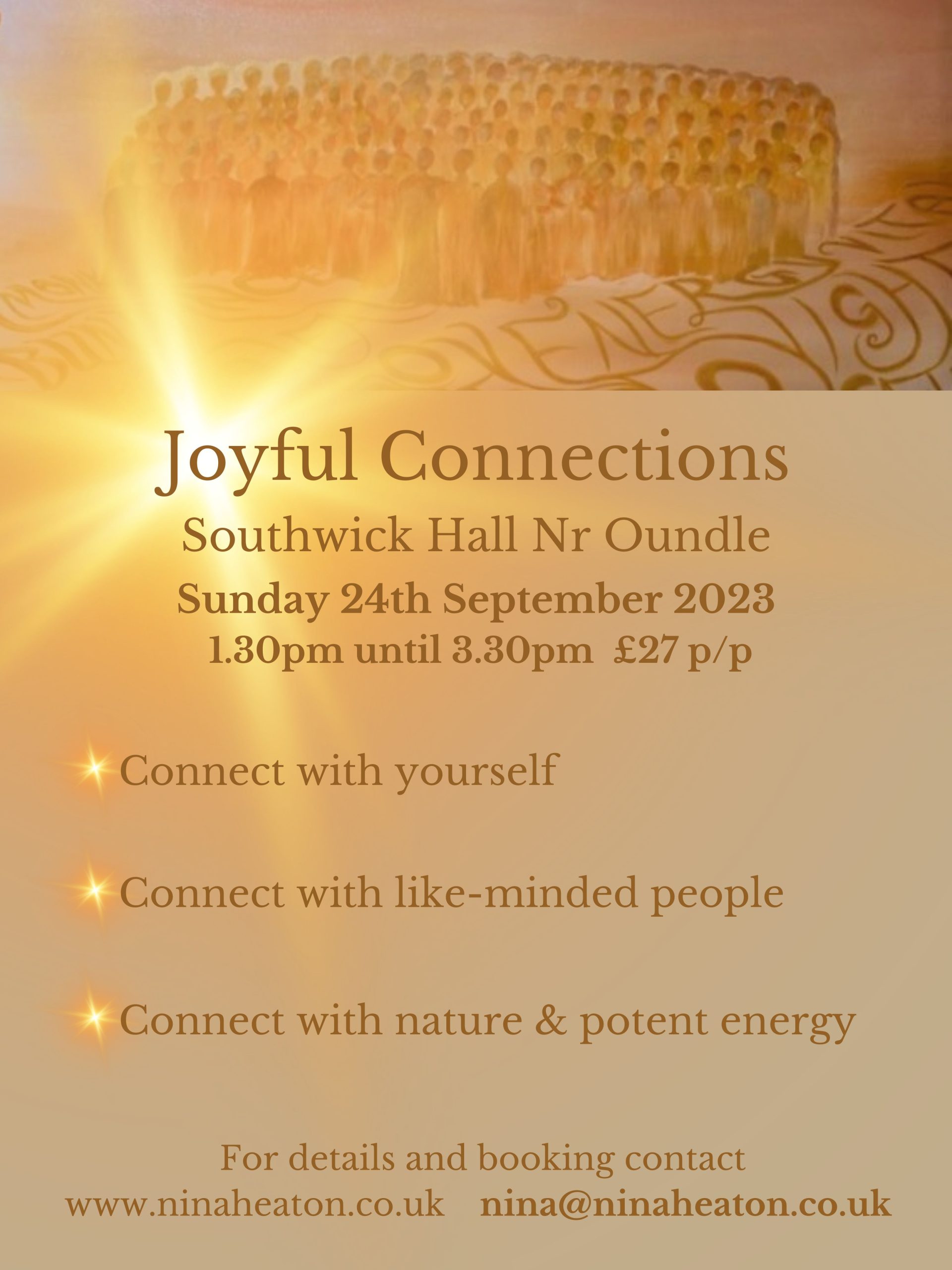 Joyful Connections
Recently I've been shown the importance of us coming together to create joyful connections and high intentions!
I've created this informal and very relaxed session at the beautiful Southwick Hall.
Intention
Connect with yourself.

Connect with like-minded people (acknowledging the power of gathering together).

Connect with nature & potent energy to raise your vibration.

Celebrate the sweetness of life.

Building a community with these gatherings.
Benefits
It's extremely powerful and is beneficial to you personally, those around you, for humanity and the Earth. Everyone is unique so experiences will of course vary, but in general…

Relaxing into the beauty within (inside you) and without (outside of you)

Peace and inner calm

Mental clarity

Deeper connection to self love

Feeling of expansion and joyful connectedness

Raise your vibration
What will we do?
I'll lead the Self Alignment Meditation to centre yourself and feel that beautiful connection.

Spend time in the wooded area where 2 powerful ley lines cross over.

Tea and healthy treats – time to socialise with like minded people.
Connection Point
Earlier in the year I discovered Southwick Hall near Oundle, a beautiful historically place and with such serene energy. With further exploration and a lot of fun, I found two ley lines (energy lines in the Earth/connecting points) which meet at a powerful point in the wooded area. This area has the potential to significantly and sustainably raise your vibration in the exact quantity and potency which is optimum for you.
What does raising vibration mean?
You may want to Google Hawkins Scale and look at the visual images. When we feel love, peace and joy for example our energy frequency is high (joy 540Hz) The Hawkins scale it is measured in Hertz relating to what we're experiencing so we feel expansion, connectedness and more in flow. When we feel shame, guilt and fear  (fear 100Hz) for example we experience contraction and a perception of separateness. In this case the frequency becomes very low.
Two way communication
You can utilise this special location to raise your vibration with joy and gratitude, this adds significant potency to this unique place in Southwick Hall grounds. It's a two way communication with the land/nourishing light that is available, and you. In other words it's an energy exchange that builds exponentially, this is what I've noticed, it's just beautiful!
Gather
We'll have homemade healthy treats, a selection of teas and filtered structured water in the cosy tea room. I will of course do my best to create a golden sunny September afternoon for us all.
If we do have some rain this gathering will still go head, we'll have our wet weather gear on and be very British about it! Joking apart, we will have gazebos for shelter while we soak up the energy. But as I say, I very much plan for all events to have a beautiful weather window.
You won't want to miss out on the energy of the place and what we can create together here!
For more details, booking and Terms & Conditions https://www.ninaheaton.co.uk/events
There are some spaces available so do book now if you'd like to come along. Feel free to email and ask any question if they aren't answered on my events page [email protected]
I'm looking forward to holding this potent gathering in this very special place.
Love & light
Nina
​